Thomas Newell has started his automotive apprenticeship at Tekapo Auto. With the support of the Mackenzie District Council and Mayors Taskforce for Jobs (MTFJ), he has received a boost with the purchase of a new toolkit and tools to help him on his journey.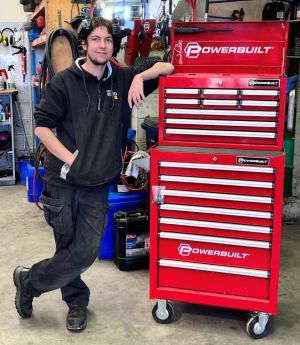 Sharron Binns, owner of Tekapo Auto, had been looking for an apprentice for some time and Thomas applied for the job whilst living in Dunedin. He was about to start a pre-trade course in Dunedin but thought the opportunity to work and learn was too good to let pass by.
As Thomas has family in Fairlie he was able to relocate without issue and has settled into his daily commute through the picturesque Mackenzie District.
Sharron has been impressed with Thomas's ability and eagerness to learn. He has started his apprenticeship with MITO and is learning to balance a life of working and studying.
The Mackenzie District Council and MTFJ wish Thomas all the best with his new career.
Contact information
Name: Leaine Rush, MTFJ coordinator