Speed
Slow down, even if you're driving a 4WD. If the gravel is really thick or loose, slow right down, especially for corners, and keep looking well ahead of you. It's easier to control your car on gravel at slower speeds and easier to react to the unexpected.
Unsealed roads can be very narrow. Reduce your speed to below 40-50 km/h (or slower, if on very narrow roads) to help you to maintain control of your vehicle. Be prepared to slow down even further when you see oncoming traffic, as the dust will obscure your vision.
Who's Around
When driving on gravel roads, especially in rural/residential areas, please consider the people who live in the area or who maybe using the road.
Our gravel roads also run along the A2O cycle routes or along the Te Aroroa trail routes. You may come across pedestrians, cyclists or children using the trails or the side of the road so drive at a safe speed so you can avoid or stop to ensure the safety of all users. Always be able to stop in the space you can see.
Dust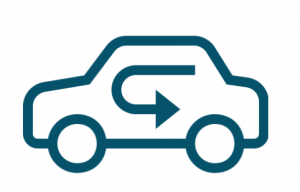 Dust can cause a nuisance to neighbouring properties, either to homes located close to the road or crops/livestock in close proximity. Please recognise the conditions that generate dust and at times of high dust generation, such as dry spells or high winds, drive at a speed that minimises your vehicles dust plume.
If it is really dusty, or if you're following another car, press the recirc' button on the dash. This will stop air (and dust) coming into the car from outside.
Loose Gravel
The gravel is usually thicker on the shoulder of the road and the slope can pull you towards the edge of the road. Use existing wheel tracks but be sure to keep left on corners and blind crests.
See and be seen
Put your lights on low beam. It helps to see, and to be seen, especially if there's lots of dust or if you're driving through shady forest areas.
Driving skills
Give other road users plenty of space.
Stones can flick up, breaking windscreens and headlights. Increase your following distance.
Be considerate if you have to overtake. Accelerate and brake more slowly and smoothly than you might normally.
Steer smoothly, with no sudden changes of direction.
Watch out for distractions that might lead you to overreact at the wheel - spring lambs, low flying hawks, backseat drivers, stunning views…
Watch out for the unexpected, loose stock, wild animals, farm and forestry vehicles, inappropriately parked vehicles and people shooting photos in the middle of the road.
Take special care when driving downhill on gravel roads: slow down and don't brake suddenly.
Skidding
Try to stay relaxed. If your car skids, don't overreact and don't hit the brakes. Gently steer the way you want to go. Keep looking ahead, as far up the road as possible. When you've recovered, adjust your speed so you have more traction and better control down the road.
Drive to the conditions – not the speed limit.