This week's bin collection
Red bin
and
Blue bin
Green bin
Yellow bin
and
Blue bin
Green bin
Kerbside refuse and recycling collections are available at Fairlie, Kimbell, Burkes Pass, Albury, Lake Tekapo, Twizel and a number of rural locations. Resource Recovery Parks are located at Fairlie, Lake Tekapo and Twizel.
Refuse services include:
Domestic refuse collection, collecting recyclables, organics and residual waste for the township areas and some rural locations.
Promotion of waste minimisation
Provision of recycling facilities
Participation in the regional waste strategy
Participation in waste diversion
Provide domestic Hazardous Waste diversion
There are no active District landfills. The Fairlie, Lake Tekapo and Twizel closed landfill sites are used for hardfill disposal, and are controlled sites that do not permit public access. Residual waste is transported to landfills outside the District.
The Council operates a kerbside collection service to township areas and limited rural areas in the Mackenzie District. Eligible properties are provided with a red wheelie bin for residual rubbish, a yellow wheelie bin for mixed recycling, a green wheelie bin for organics and a blue glass crate for glass. The red and yellow wheelie bins are collected in alternate weeks, while the blue glass crate and green organics bin are collected weekly.
Collection days:
Collection Calendars 2022
To download a collection calendar for your area please click on the link below. If you're in Twizel please refer to the map in the section above to see if you're in the inner our outer collection area.
What goes in each bin?
If you are not sure of what can go in each bin, check underneath the lids of your red, yellow and green wheelie bins for labels that list what can go in each bin.
Need an extra glass crate?
All glass must go in the blue glass crate. If your glass crate is overfull then it makes it difficult to pick up safely without breaking glass on the footpath or road. If you regularly have too much glass for one glass crate then we are happy to provide an extra crate. Please contact us on 03 685 9010.
Commercial collections
Commercial rubbish and recycling collections are available through Envirowaste - please contact them on 0800 240 120
General kerbside collection information:
Bins need to be out by 7am during daylight savings (starts on the last Sunday in September) and 8am during winter.
Wheelie bin lids must be fully closed and glass must not be piled above the height of the crate.
Wheelie bins are stamped with a unique number and allocated to individual properties, they should not be shifted between properties. If you have built a new home and need a set of bins, please contact us.
If your bin has been damaged or stolen, please contact us on 03 685 9010
Resource Recovery Parks are located at Fairlie, Lake Tekapo and Twizel.
At these parks, you can drop off residual waste, green waste and recyclable items including scrap metals, E-waste and domestic quantities of oil, paint and herbicides.
Fairlie
Address
Hours
Dobson View Road, Fairlie
Tuesday and Thursday - 2:30 to 4:30pm

Saturday and Sunday - 12:30 to 4:30pm
Tekapo
Address
Hours
Highview Lane (off Murray Place)
Wednesday - 10am to 4:30pm

Sunday - 9am to 11:30am
Twizel
Address
Hours
Corner Ostler Road and Hooker Crescent
Monday to Sunday - 12pm to 4pm
All Recovery Parks are closed Christmas Day, Boxing Day, New Years Day, 2nd January, Good Friday and Anzac Day.

Recycling - Yellow Bin
All recycling should be clean and loose. It's easy, just give bottles and containers a quick rinse and keep items loose.
Any recycling that is tied up inside a plastic bag will not go through our sorting system and will end up in landfill - don't waste your good recycling efforts, shake it out of the bag and into your yellow bin.
These items can go in your yellow bin:
Plastics #1, 2, 3, 4, 5, 7 (just not #6) - Please take lids off bottles and rinse plastics clean.
Paper, magazines and cardboard.
Tins and cans.
Aluminium trays and foil. Try the scrunch test: if you scrunch the foil in your hand and it springs back, it's probably non-recyclable plastic, but if it stays scrunched up, it is aluminium.
Aerosol cans - empty only.
If it is not on this list, keep it out of your recycling bin.
Blue Glass Crate
Glass bottles and jars go in the Blue Glass Crate, not your yellow bin.
Too much glass? Contact the Council to request an extra glass crate or drop your glass into your local Resource Recovery Park for free.
Organics - Green bin
Food waste - also try home composting.
Garden waste, pruned branches or lawn clippings.
Dog Excrement
Fish and chip paper, pizza boxes, paper towels and serviettes (remove any plastic)
Rubbish - Red bin
Items for the red rubbish bin include:
General rubbish eg. dirty nappies.
Polystyrene.
Non-recyclable plastics eg. plastic food wrap, toys, garden hose.
Clothes, fabric, pillows or shoes.
Crockery, eg broken plates and cups.
Medical waste.
Ashes from your fire place - wait until they are cool before putting in your red bin.
Cigarette butts - wait until they are cool before putting in your red bin.
Juice cartons.
Resource Recovery
Take these items to your nearest resource recovery park.
Hazardous items eg. Gas bottles, paint, chemicals or batteries.
Electrical appliances eg. broken toasters or cell phones.
Not sure?
If you've got something that you are not sure if you can recycle it, or don't know where to dispose of it, please give us a call on 0800 685 8514 or email to info@mackenzie.govt.nz
Did you know that you can recycle your old electronic waste at your local Resource Recovery Park?
These items can not go in your yellow bin as they will be damaged in our sorting system, however you can drop them for recycling. We accept lots of different items, some at no charge and others for a small fee.
So, don't throw your old electrical items in the rubbish, bring them in and have them recycled into something new.
Special offers and related links
Get composting! Turn your kitchen and green waste into food for your garden and reduce landfill waste. Around 35% of an average rubbish bin is food and garden waste-start composting and reduce your waste now.
Why compost?
Better for the environment - Food and green waste that breaks down in a landfill creates more methane, a greenhouse gas that is bad for our environment. Plus, home composting saves landfill space.
Better for your garden — Feed your plants with valuable compost!

The Mackenzie District Council is offering subsidies on compost systems to help you reduce waste. There are two options available, but be in quick as there are limited numbers, first in first served!
This offer is available to Mackenzie District residents only. Limited numbers — maximum of one compost option per household.
Bokashi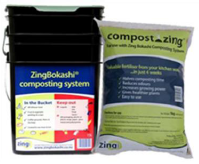 Bokashi Compost-Zing ferments kitchen waste in a bucket system and it's really easy to use:
Two buckets nested one upon the other. The outermost bucket has a tight fitting lid and the inner bucket has holes in the bottom to allow liquids to drain into the outer bucket.
Simply drop your food waste into the bucket and add Compost-Zing to start the fermentation process. Compost-Zing consists of plant by-products inoculated and fermented with EM (Effective Microorganisms).
Advantages:
It is quick! Food waste to compost in about 4 weeks.
Less odour due to food fermenting, rather than decomposing.
Compact system means it can be stored inside—put it under the kitchen bench!
Easy to use, requires no mixing and produces a very natural pour-on liquid fertiliser as well as physical compost.
Get a set of 2 x 15 litre buckets with 2 bags of Compost-Zing for only $50 including delivery. Retail value is $112, so this is a great price.
To purchase, please order online at zingbokashi.co.nz and enter the code MDC at the checkout to receive the subsidised price.
Note: subsidy applies only to the set described above.
Earthmaker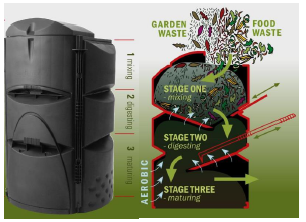 The Earthmaker is an outdoor compost bin designed to be user friendly and very efficient at making compost:
Made up of 3 bins stacked vertically, so gravity does the hard work for you, plus a large 466 litre capacity.
It uses a continuous cycle process to keep new material away from older material. Food and garden waste can be added at any time, while mature compost can be removed when convenient (turning to aerate material in a single bin means new waste is mixed with old, which slows down the process).
The Earthmaker has a push-pull tool that makes it easy to mix and move material through the process without heavy lifting and turning.
Get your Earthmaker now for only $97. Retail value is $197, so you save $100.
To order, contact Angie Taylor at the Mackenzie District Council at angie.taylor@mackenzie.govt.nz or 0803 685 8514.
Just $20 for a pack of goodies worth up to $100
Cloth nappy packs include:
2 different styles of modern cloth nappies, a set of kai carriers, bees wax reusable food wraps plus other samples and goodies and The Nappy Lady's information booklet
Why cloth nappies?
Good for the environment and your wallet!
Disposable nappies take up a lot of space in landfill and take a long time to break down – up to 550 years per nappy!
Using cloth nappies can save you up to $4000 per child. Even if you don't use cloth nappies full time, eg. cloth nappies for daytime use and disposables when you are out and about, you can still make very worthwhile savings.
Who can get one?
Families living within the Mackenzie District
Limited to one pack per family, please bring proof of address when purchasing (eg. power account).
Where to buy:
Available from the Council offices in Fairlie and Twizel for $20 each.
Limited packs available!
For more information, please contact the Mackenzie District Council on 0800 685 8514
We're supporting Ecomailbox, a nationwide scheme to reduce the amount of junk mail that goes in letterboxes.
Ecomailbox provides residents with a 'No Ad Mail' letter box sticker, suitable for all surfaces and weather conditions.
Residents who use the sticker on their letter box will no longer received paper circulars, but will still be able to view the information online at the Ecomailbox website.
Having the sticker on your letterbox will not stop you from receiving local newspapers and newsletters.
The stickers are free and can be picked up from the Council offices in Fairlie and Twizel and the Information Centre in Lake Tekapo, or ordered from the Ecomailbox website.
Ecomailbox estimates that 30kg of advertising circulars are delivered to each New Zealand home every year. The paper used to print these comes from close to 300,000 trees.
Love Food Hate Waste
The Mackenzie District Council is proud to be involved with the nationwide Love Food Hate Waste campaign.
Every year Kiwis send 157,398 tonnes of food to landfill, all of which could have been eaten. Not only is wasting food costing us money, it is also bad for the environment. Love Food Hate Waste has tips and recipes to help you reduce your food waste and save money.
Join the hundreds of people around the country who are making an effort to stop wasting food. Start by doing just one thing differently and enjoy the money you can save.
Check out the Love Food Hate Waste website and Facebook page for ideas now.
Fees and Charges
Costs for the off-loading of waste at the Twizel, Tekapo and Fairlie Resource Recovery Parks.
Request bin
Request a new set of wheelie bins, or an extra set.