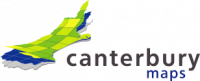 The Canterbury Maps website provides free access to maps, records, information and data from the local government councils in the Canterbury region.
Interactive maps provide many easy-to-use ways to look at and find information resources held by the councils.
The maps can be used from any computer, touchscreen or mobile device with an internet connection, using a map viewer similar in operation to Google Maps. No special licence, subscription or software is required.
Examples include:
Canterbury's air and water quality, recreation and parks, planning zones, resource consents, transport links, local attractions and council services.
Historical records, plans and aerial imagery.
Regional plans and management information.
Geographic Information Services (GIS) map printing
A map printing service is offered by Council.
Maps of the Mackenzie District are produced with paper sizes ranging from A0 to A4.