The final result for the Mackenzie District Council elections, held on Saturday 8th October 2022, has been announced.
The triennial local body elections are taking place in 2022.
1 Mayor
3 councillors to represent the Opuha Ward
3 councillors to represent the Pukaki Ward
1 councillor to represent the Tekapo Ward
4 members to represent the Fairlie Community Board
4 members to represent the Tekapo Community Board
4 members to represent the Twizel Community Board
2 members to represent the South Canterbury/Ōtuhituhi Constituency of the Canterbury Regional Council (ECan)
| | |
| --- | --- |
| From 13 July | Elections will be advertised and nominations called. |
| 15 July | Candidate nominations open. |
| 12 August | Candidate nominations close at 12 noon |
| 17 August | Candidates announced |
| 12 September 2022 | Final Electoral roll certified by electoral officer |
| 16 – 21 September 2022 | Voter packs mailed to electors. Voting opens. |
| 16 September – 8 October 2022 | Voting opens |
| 8 October | Voting closes at midday. |
| 8 October | Progress and preliminary results published |
| 14 – 19 October 2022 | Final results announced |
If you live in one district and pay rates in another district you may be eligible to join the ratepayers' electoral roll.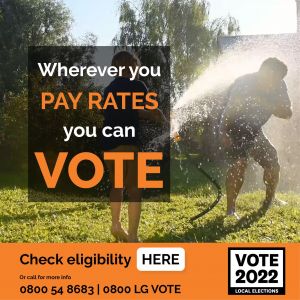 The Local Electoral (Advertising) Amendment Bill has been introduced into parliament and is expected to be enacted in July 2022. If enacted, that legislation will allow the address requirements of an advertisement authorisation statement to be met by providing—
a residential or business address; or
an email address; or
a post office box number; or
a phone number; or
a link to a page on an Internet site (if the page contains 1 or more of the above).
The requirement to list the authorising party remains. There must be a reasonable expectation that anyone wishing to discuss the advertising can do so with the candidate or their agent from the contact details listed in the authorisation statement. The use of a council building address is not permitted in the authorisation address.
Learn about standing for election in the Mackenzie District. This webinar consists of two parts:
0.00 - Deputy Mayor James Leslie speaks about standing for council.
11.33 - Deputy electoral officer Arlene Goss outlines the vacancies available and how to lodge a nomination.
Nominations have closed for the 2022 triennial local authority elections. Forms can be downloaded below or printed copies are available from the council offices in Twizel and Fairlie.
If you have any questions or need help with your enrolment form, contact Deputy Electoral Officer Arlene Goss on deo@mackenzie.govt.nz, ph 03 685 9010.
If you are enrolled as a parliamentary elector you will automatically be placed on council's electoral roll as a residential elector. If you need to enrol or update existing name or address details on the parliamentary electoral roll, you can do so online at vote.nz or by phoning 0800 36 76 56.
Arlene Goss
Deputy Electoral Officer
Mackenzie District Council
Ph 03 685 9010 or email deo@mackenzie.govt.nz
Anthony Morton
Electoral Officer
Ph 0800 666 048 or email iro@electionz.com
Information requests
Responses to information requests that Mackenzie District Council has received from people who stood for election in the 2022 Local Body Elections.
1.) Financial reports May and June 2022 (attached)
2.) Council's Facebook post about Meet the Candidates and contact details:
Mackenzie District Council

26 August at 09:38 ·

Are you wondering who to vote for? Sessions are taking place where you can meet with the people standing for election in your area.

Sessions are taking place in Tekapo, Fairlie and Twizel:

Tekapo

Wednesday, September 21, 6.30pm

Lake Tekapo Community Hall

Organised by Steve Howes, Tekapo Community Board - steve@tekapore.com

Fairlie

Thursday, September 22, 7.30pm

Mackenzie Community Centre

Organised by Anne Thomson, Heartlands - annet@fairlienz.org

Twizel

Monday, September 26, 3.00pm (SC Anniversary Day)

Twizel Events Centre

Organised by Jan Spriggs, Twizel Community Board – jan.spriggs@gmail.com
3.) Mackenzie District maps with boundary and road names
This information is available at https://canterburymaps.govt.nz/mackenzie
4.) LGOIMA Request